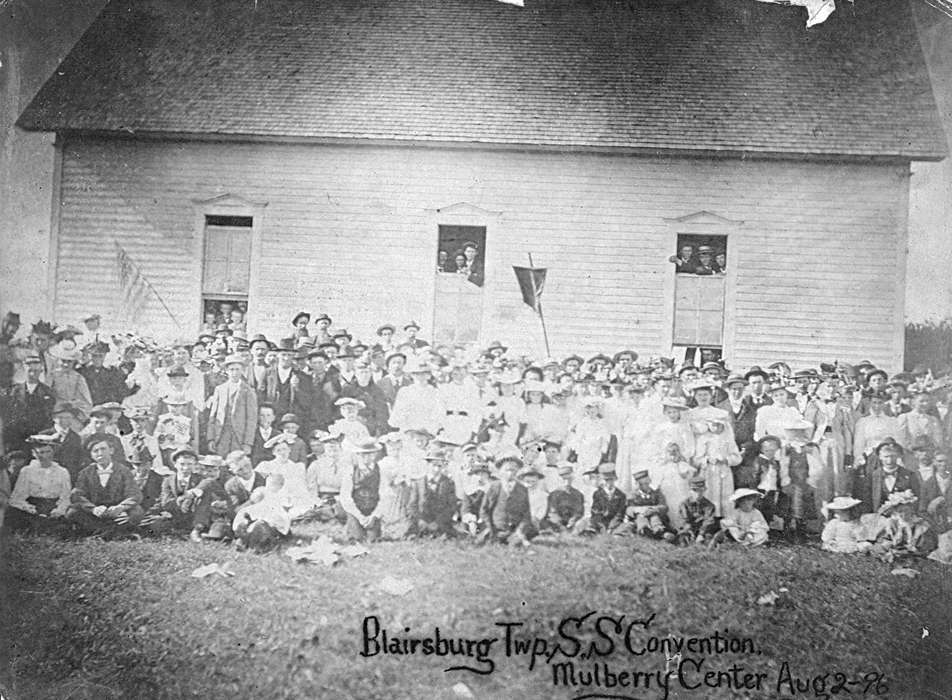 Scanned by Curtis, Leonard
Added to the archive Dec. 1, 2013
Category Terms:

Portraits - Group, Religion, Religious Structures, Schools and Education

Tags:

school, sunday school +

Comments:

Date: August 2 Location: The Mulberry Center Church Activity: This photograph shows the participants in the Blairsburg Township Sunday School Convention that took place at Mulberry Center Church on August 2, 1896. The Mulberry Center Church was located near the NW corner of the SW 1/4 of section 5, Blairsburg Township, Hamilton County, Iowa. A historical sketch housed in the collection of the Mulberry Center Helping Hand Club at the Kendall Young library offers an account of the early church: "The Mulberry Center United Brethren Church in Christ was organized in 1887 with 52 members and held church services in the school house that was located ¼ mile south of the present church….Plans for a church building were in progress by 1889….A one-room frame church building, with no basement, was erected and dedicated July 18, 1890….A Mrs. Morris lived [sic] the first place south of the church. She had planted many mulberry trees around her home and along the road. Thus the name was chosen." Aquila France served as the building supervisor. Rachael Flinn was among the first members of the congregation (Carolynn Miller has in her possession a ledger book with the names of the first congregants). A marker now designates the place where the church once stood and the church itself was moved in the 1980s to the Bonebright Park and Museum, Webster City, Iowa.