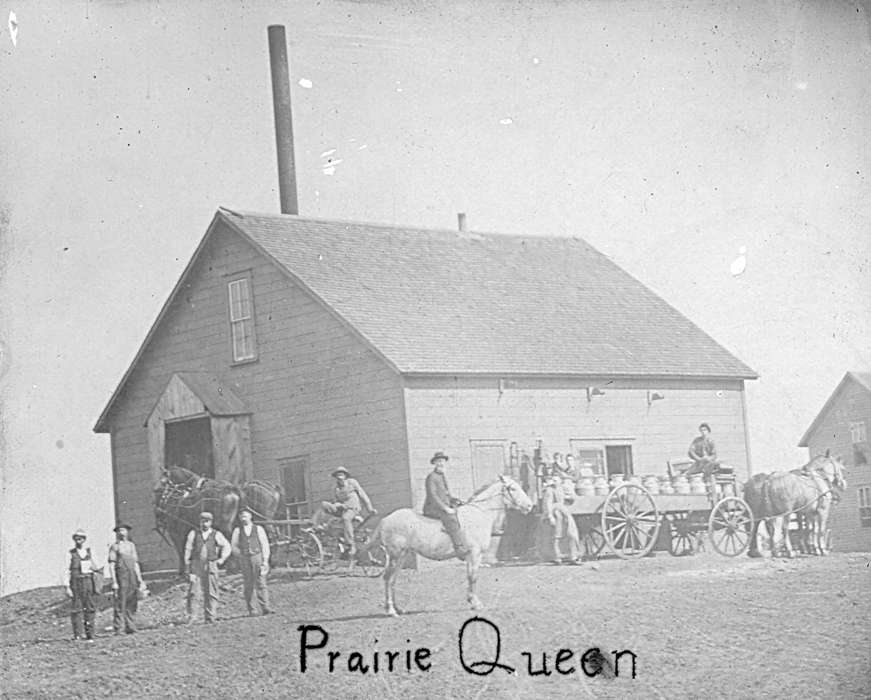 Digitized by Leonard Curtis
Added to the archive Dec. 1, 2013
Category Terms:

Animals, Businesses and Factories

Comments:

Location: This building was the home of the Prairie Queen Creamery Company located on the SW corner of the NW ¼ of Section 6, Blairsburg Township. The creamery was a collection point for local cream production and was a stop on a cream collecting route originating in Clarion, Iowa, and ending in Webster City, Iowa (see article by local historian Ed Nass).

People: The man on the light colored horse in the center of the photograph is Aquila France, a local pioneer and Civil War veteran who, as noted in an article by local historian Ed Nass, served as the Secretary for the company. According to my grandmother, Myrtle France Curtis (1888-1972), this building was one of an enclave of buildings that occupied three of the four corners of the intersection. She recalled a blacksmith shop on the NW corner, and a Woodsmen of the World dance hall on the SE corner. The SW corner was part of the farm occupied by her relatives (uncle William Henry France, Aunt Jenny France, and cousins Ralph, Earl, Raymond, Ethel, George, and Melford France). Surface collections conducted there in the late 1970s yielded numerous pottery and glassware fragments, in addition to a 1919 Liberty dime, suggesting that the creamery included a small dry goods store. My grandmother told a story of purchasing a sewing card as a girl she probably purchased it there (I still have the completed sewing card, featuring a stitched image of a rooster). Among my grandmother's things was a turquoise and white glass hen-on-nest trinket box that may have come from the Prairie Queen. Fragments of an identical box were found on the site during the 1970s surface collection.